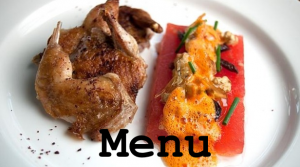 Dear Subscribers,
Happy New Year.
I hope that you all had a chance to relax and enjoy yourselves over the holidays.
Subscription 2.1, our first subscription of 2010, begins this coming Thursday. To continue with your subscription 2.1 renewal, no further action is required, just wait for the week 1 delivery to arrive on Thursday, January 7th. There is no need to contact me unless you wish to postpone or pre-schedule holiday weeks off at no cost. If this is the case, please contact me as soon as possible to let me know. If you have already contacted me regarding scheduling, there is no further need to do so.
How to Order • Price • Payment • Delivery
Subscription 2.1 Menu
Week 1 – January 7th Delivery
Cumbrae Farms Beef Round Medallions
wrapped in Cured Pork Belly
Nipissing Game Farm Sweet and
Spicy Marinated Semi-Boneless Quail
Line Caught Wild Pacific Black Cod
Week 2 – January 14th Delivery
Ontario Harvest Venison Ragout with Pancetta and Black Trumpet Mushrooms
Fenwood Farm Certified Organic Chicken Supreme
Fresh BC Qualicum Bay Scallops
Week 3 – January 21st Delivery
Rising Star Elk Sausage with Wild Trailing Blackberries
White Wine Marinated Semi-Boneless Rock Cornish Hen
Sustainable Fish Soup with Saffron, Organic Fennel and Leek
Week 4 – January 28th Delivery
Hope-Eco Farms Berkshire Pork Chop
Blanquette of Certified Organic Fenwood Farm Chicken with Organic Vegetables
Wild Lake Erie Pickerel Fillet
Thanks again for subscribing to Provenance-to-Home and for making 2009 such a successful launch year. You can look forward to the launch of a new online store at www.provenancecuisine.ca and the opening of a retail shop in early 2010! Your continued support is a key factor in the development of sustainable local foods and the people that raise and produce them.
Best regards,
Alex Johnston
Chef and Owner, Provenance Regional Cuisine