Provenance Regional Cuisine was founded in the spring of 2009 with a mandate to connect the Toronto public with more local and sustainable foods of known provenance.
Chef Alex Johnston chats with guests at the SlowFood/Evergreen Picnic at the Brickworks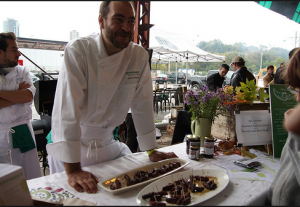 Chef and Owner Alex Johnston brings his restaurant experience to the retail grocery market with an aim to offer top quality prepared foods and access to the very best producers Ontario has to offer.
Provenance-to-Home, an online sustainable grocery service, allows members to purchase foods through a weekly a la carte menu offering, or by subscribing to a four week fixed menu. Provenance-to-Home was the first product offered by Provenance Regional Cuisine and continues to expand its membership base each month.
In the spring of 2010 Provenance Regional Cuisine opened its first bricks and mortar retail outlet, at 800 Dundas St. West (Palmerston Ave. side entrance), in the Trinity Bellwoods neighbourhood. The small shop offers a range of local and sustainable foods combined with informed customer service.
Future plans to begin offering food and wine related educational classes, as well as private dining catering services, are in development.